ACRA's 28th Annual Conference: San Antonio, TX
(September 21-25, 2022)
Our 28th annual conference will be held in San Antonio, Texas from September 21‒25, 2022. This year's conference theme — CRM: Bridging Agencies, Industries, and the Community — highlights the important role CRM firms fill, from helping clients successfully navigate established processes to ensuring that the voices of community members are heard. This ideology is particularly true in our host city as San Antonio has deep connections to heritage tourism and the inclusion of the public in CRM work.
A session schedule is available here. In addition to annual favorites like our state of Capitol Hill talk and the ACRA organization update, confirmed sessions thus far include a discussion on CRM and the tourism industry, understanding and evaluating places related to the American race to space, a discussion on foodways and how an analysis of this significant lifeway impacts our resource evaluations, how companies are helping employees find a better work/life balance, and much more!
If you have questions about conference planning or would like to get involved, please contact Conference Committee Chairs Kerri Barile and Bonnie Gibson or Executive Director Amanda Stratton.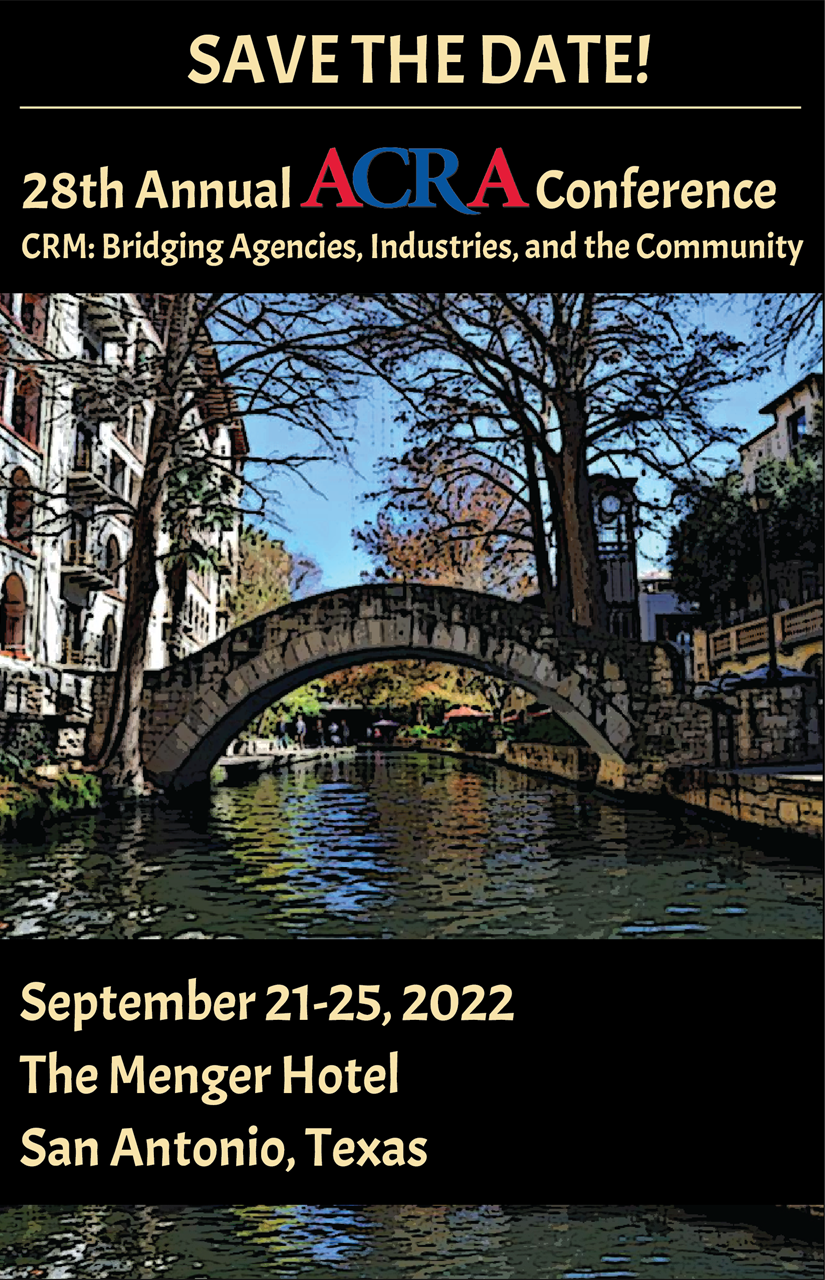 The 2021 ACRA Awards were presented at the Annual Conference in Old Town Alexandria, and we were thrilled to congratulate the following winners:
Cloverfields Preservation Foundation for the renovation of Cloverfields
Indiana Division of Historic Preservation and Archaeology for residential planning and development in Indiana, 1940-1973
Agua Caliente Band of Cahuilla Indians for the Agua Caliente Vision 2020 Project
Florida Department of Transportation District 4 for the preservation of Woodlawn Cemetery
Delaware River and Bay Authority for the Delaware Airpark Master Plan
You can learn more about each winner and project in the video below.